Back To Blog
Did you know that the sectional door of your garage is the largest automatic system in the entire house? Additionally, it is constantly exposed to the elements and to the dust and dirt which you bring in with the car. All of these factors produce the need for regular garage door maintenance. Cleaning is among the main maintenance tasks which have to be performed at least twice every year. The choice of cleaning product is extremely important for a proper job and keeping the unit safe at the same time. You have to be sure that you get it right.
Safe and Effective Cleaning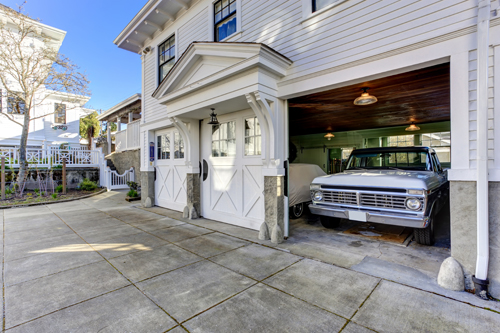 For cleaning the garage door panels, never use chemicals which cause damage to the paint or the material underneath it. It is important to note that steel panels are not made from the same material as kitchen sinks and the metal parts of showers. That is why you must not use kitchen and bathroom cleaners for the overhead door. One safe and highly effective cleaner is plain household detergent. You can readily prepare a solution with one cup of detergent, four gallons of water, and clean the panels gently with a sponge. Keep in mind that rinsing is crucial.
The galvanized garage door parts require cleaning as well. This is because dirt sticks to them more easily. Besides, the lubricant may have gone bad. For these components, you must never use a corrosive cleaner or one which can damage their protective zinc coating. For the moving components such as the hinges and rollers, apply solvent which is perfectly safe for metal. It will work excellently to remove the grease and dirt.
You can readily use a brake cleaner for the garage door tracks. Due to their design, these parts can accumulate quite a lot of dirt and oil, and cause the door to move more slowly. This type of cleaner literally washes off these compounds when it is sprayed on the surface of the components.
You must be careful with the cleaning chemicals which you use for the garage floor and for the driveway. It is best to opt for products which cannot cause damage to the bottom sections of the parts and panels of the door. If this is not possible, rinse these surfaces thoroughly straight after cleaning them. This is a major rule which you must keep.
When you use the right cleaning chemicals for providing garage door maintenance, everything will be fine.